Venue & Hospitality
Rupa Stephen-Ayub, Corporate Sales ManagerHoliday Inn Toronto International Airport970 Dixon Road | Toronto, ON | M9W 1J9(416.798.5809 | 7416.798.5810)

Please feel free to contact us for at [email protected] to avail 30% waiver on Registrations for bookings on Package A or Package B or group registration

Conference Dates: August 14-15, 2017
Hotel Services & Amenities
Audio/Visual Equipment Rental.
Business Center.
Business Phone Service.
Complimentary Printing Service.
Express Mail.
Fax.
Meeting Rooms.
Office Rental.
Photo Copying Service.
Secretarial Service.
Telex.
Typewriter.
Video Conference.
Video Messaging.
Video Phone.
ATM.
Baggage Storage.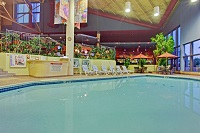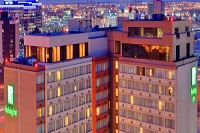 Transportation
Driving Directions to

Area Airports

Toronto Pearson International Airport - YYZ

Airport Phone: 1 416 776 3000

Hotel direction: 0.6 miles NE

Airport shuttle service, scheduled, complimentary

Shuttle Phone: 1 416 674 9400

Driving directions

Exit the airport turning right onto Dixon Road. The hotel is located on the right at Dixon Road and Carlingview Drive. // Complimentary 24-hour hotel shuttle stops at post S5 at Terminal 1 and post C22 at Terminal 3. Shuttle runs every 25 minutes 4:05am-1:59am and on request 2am-4am.

Billy Bishop Toronto City Airport - YTZ

Airport Phone: 1 416 203 6942

Hotel direction: 9.3 miles NW

This hotel does not provide shuttle service.

Alternate transportation: Airport Limousine; fee: 40 CAD (one way) ;on request

Estimated taxi fare: 40 CAD (one way)

Visit YTZ airport website

Driving directions

Take Island Ferry to City Base. Follow the Gardiner Expressway West to Highway 427 North to the Dixon Road East exit. The hotel is located at Dixon Road and Carlingview Drive.
About City
Toronto is Canada's largest city, the fourth largest in North America, and home to a diverse population of about 2.8 million people. It's a global centre for business, finance, arts and culture and is consistently ranked one of the world's most livable cities.
People have lived in Toronto since shortly after the last ice age. The urban community dates to 1793 when British colonial officials founded the Town of York on what was then the Upper Canadian frontier. That village grew to become the City of Toronto in 1834, and through its subsequent evolution and expansion, Toronto has emerged as one of the most liveable and multicultural urban places in the world.
Discover Toronto's past at the City's Historic Museums through a wide range of programs, special events, exhibitions and workshops. These activities provide enriching entertainment for all ages while reminding residents and visitors of Toronto's exciting history.
Aboriginal peoples have inhabited the area now known as Toronto for thousands of years. The urban history of the city dates back to 1787, when British officials negotiated the Toronto Purchase with the Mississaugas of the New Credit. They established the Town of York, and later designated it as the capital of Upper Canada. During the War of 1812, the town was the site of theBattle of York and suffered heavy damage by U.S. troops. York was renamed and incorporated as the City of Toronto in 1834, and became the capital of the province of Ontario in 1867. The original borders of Toronto were expanded throughamalgamation with surrounding municipalities at various times in its history, the results of which can be seen in the 140 independently unique and clearly defined official neighbourhoods that make up the city.
As Canada's commercial capital, the city is home to the Toronto Stock Exchange, the headquarters of Canada's five largest banks, and the headquarters of many large Canadian and multinational corporations. Its economy is highly diversified with strengths in technology, design, financial services, life sciences, education, arts, fashion, business services, environmental innovation, food services, and tourism.